Meet Jessie
We all have stories and Jessie's is one of our favorites. Jessie started in her local PetSmart store 15 years ago and has since worked at our Home Office in Merchandising, Store Operations, Loss Prevention & Safety, and is now the Director of Store Development and Merchandise Execution. Oh, and she's had 3 kids! No big deal, right? The best part is that she makes it look easy! Hear Jessie's story about how she's been able to grow her career and her family at PetSmart.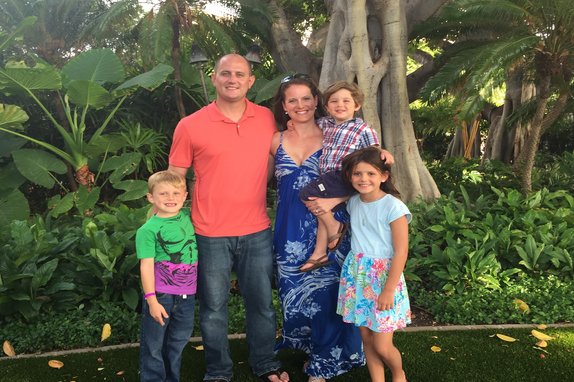 Tell us about your family!
I have 3 kids (Taylor, Mason, and Hunter), 2 dogs (Ruby and Brownie), 1 cat (Nalla) and a new guinea pig (Flash)!
Do you bring pets to work and have kids in our day care?
I love having the family on campus! All three of my children have loved our day care. I came back from maternity leave with Taylor just as the center was opening in 2008. She was the first of 4 infants in their infant room and it was a blessing to have her onsite. It made the difficult decision of whether or not to come back to work much easier. Today only Hunter attends and loves his teachers in the Preschool classroom.
I bring my dogs to work often. Brownie loves to jump on people's laps and is such a lover. Ruby has a sweet disposition and is a little more reserved, however, she loves a good belly rub.
What family events does your family attend?
My family looks forward to the annual Fall Festival. It's a great time for the kids to see my work space, reconnect with old day care friends and introduce my husband to my peers.
How has PetSmart helped support your work/life balance?
Having the day care onsite has allowed me to feel like I can be the mom I want to be while also successfully driving my career. My leadership is also supportive of ensuring family commitments can be met by providing flexibility when necessary in the workday.
What advice do you have for other parents?
Any time someone asks me "how do you do it" my simple answer is… you just do. The idea of balancing it all and never letting a ball drop is overwhelming, but if you're planful, flexible, and give yourself space to not be perfect, it will all work out. I've found that if you commit to being both a great parent AND successful in your role, you often find the support you need within PetSmart.